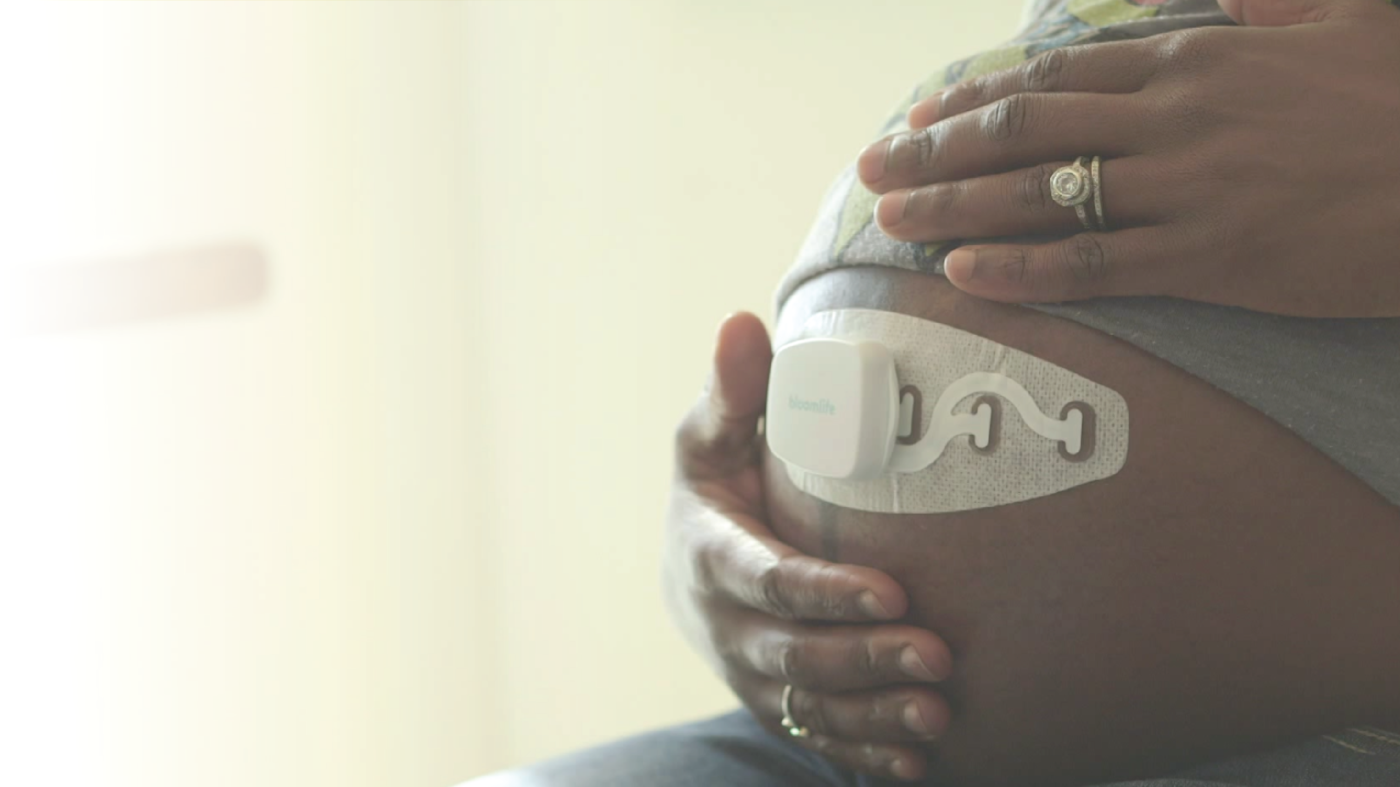 The first and only wearable device to measure contractions from home.
The Bloomlife pregnancy tracker passively measures uterine muscle activity to capture contraction information. Providing a tool for women and their partners to better understand, track, and discuss contraction patterns in the weeks leading up to labor.
Validated for accuracy, reliability, and ease of use
See, count, and time contractions like never before.
| | | |
| --- | --- | --- |
| Clinically Validated | Simplified for use at home | Safe for continuous use |
| Bloomlife is not a medical device and is not intended for diagnostic purposes. However, it has been clinically validated for sensitivity and specificity under IRB approved studies. We have demonstrated clinical equivalence to hospital-based tocometers, but with a much improved user experience. In addition, research through our clinical partners demonstrates that women who have access to Bloomlife feel more empowered and less anxious during their pregnancies. | Our customers consistently demonstrate that it is simple to use and easy to understand. It also comfortable— attaching to the belly by a gentle medical grade adhesive. Interpretation of contraction activity is simplified by not showing both real-time uterine activity and visualizing how the pattern is changing from hour to hour, and day to day. It also automatically calculates the frequency and duration of contractions and offers ways to share data. | The Bloomlife contraction monitor works by listening to the electrical activity of the uterine muscle so it is 100% passive. Bloomlife is FCC certified. An independent 3rd party lab has tested the specific absorption rate of our device and we're 400x lower than the acceptable threshold for electromagnetic radiation. The results demonstrate no electromagnetic radiation is absorbed by the body making Bloomlife safe for continuous use. |
For moms
With our early customers, over 10,000 women throughout the US, Bloomlife has delivered a validated second opinion, peace of mind, and greater confidence in the third trimester. Information Bloomlife provides has been shown to reduce pregnancy related anxiety[1] and increase a sense of empowerment[2]. In addition, having easy and accessible information has enabled easier communication between expectant women and their care teams.
For healthcare providers
While Bloomlife is not intended for diagnostic purposes today, the data we have collected successfully helped us identify our first biomarker—labor detection (this feature will be available to test in 2019). Through research driven, consumer-generated data capture we plan to continue expanding biomarker identification to empower clinical decision making and improve birth outcomes. 
What professionals and moms say
John Elliott, MD, MFM, specialist in high-order multiples
"Preterm labor contractions are extremely difficult for moms to detect. Having a monitor like Bloomlife will assist me to extend the pregnancy allowing the baby or babies to be born older, stronger, and more likely to avoid long-term complications."
"Bloomlife saved me from traveling to the hospital unnecessarily. It's worth the peace of mind. "
"Bloomlife allows the pregnant mom to access clearly and confidently what can be confusing to some women – WHAT is happening in there? In her body she can feel it, with Bloomlife she can see it and document it."
"Bloomlife was a game changer for us"
"I'm so happy to have my Bloomlife baby safe and sound in my arms"
Frequently asked questions
Does Bloomlife diagnose labor?
Not yet, but we are getting close to it!  The current Bloomlife product helps guide women to observe contraction patterns that might reflect labor. The contraction pattern bar allows her to easily see when contractions are regular vs. irregular and the contraction metrics (average frequency and duration) appear only after an hour of recording.
How does Bloomlife measure contractions?
Bloomlife uses electrophysiology to measure muscle activity. This is the same technology that enables ECG to measures heart rate and rhythm from cardiac muscle. Specific to the uterine muscle, Bloomlife uses electrohysterography (EHG) to measures the electrical activity of the uterine muscle as it contracts.  From there, we use proprietary signal processing algorithms to decode the data captured by the sensor and patch and display contraction information in the app.
How is Bloomlife different from Home Uterine Activity Monitoring (HUAM)?
First, HUAM uses tocodynamometer, which has inherent measurement and usability flaws. On the technology side, Bloomlife uses EHG to measure uterine muscle activity (not pressure changes like the toco), such that the sensor is able to more reliably capture physiological changes as the mom's body prepares for labor. While the current product is not diagnostic, our research has demonstrated that the physiological parameters that Bloomlife captures can be used to determine whether or not a woman is in labor. In addition, Bloomlife is easy for women to apply and use independently, and does not require a medical professional for application or interpretation, as we've demonstrated with early customers. 
Why is Bloomlife placed on the lower abdomen?
The location of the current style of patch resulted from our studies to determine optimal positioning needed to capture the best signal quality for both contraction and maternal heart rate data. Our results suggest that placement horizontally and approximately 3 cm below the umbilicus guaranteed the best signal quality for both measurements. We also found that placement does not have to be exactly within this range to receive quality data. Quality data also relies on usability and we found that guiding women to measure "three fingers" below the belly button for placement allows consistent capability of applying the system independently.
Do you partner with clinics?
Yes! We're always interested in expanding our clinical partnerships. If you would like to get involved or if you have patients who want to try out Bloomlife, get in touch. The button at the bottom of the page has a form to fill out.
Will I have access to my patient's data?
Not at the moment. However, many of our current customers openly share their data with their care team at visits, over the phone, and even in Labor and Delivery triage.
Interested in learning more or partnering?