Good prenatal nutrition can become a tricky thing to navigate. What do I (and baby!) need in my diet? Where can I find it? How do I add it to dinner?
Baby Building Blocks is a prenatal nutrition and recipe newsletter that follows your pregnancy, week-by-week.

The Bloomlife Baby Building Blocks Newsletter aims to match guidance with simplicity, give doses of useful information provided precisely when you need it. Sure its fun to know that baby is the size of an orange but isn't it more fun knowing that the Vitamin C in an orange can help build collagen in her little developing lungs during week 8? (Ok, we're nerds.)
With Baby Building Blocks, each week you will find out about the exciting things happening with baby, the nutrients you need to support each step of development, how to add each "building block" to your diet, and a recipe to inspire you.
A little taste of what we'll send your way when you sign up for the newsletter…
---
Week 9 – Copper for red blood cells


What's going on in there?
In your first trimester, your blood supply will start to double. Baby is also starting to pump her own blood.
What do I need and why?
Think of COPPER as iron's little helper mineral when it comes to making red blood cells. Baby hasn't quite started the production line for her red blood cells (coming up in week 11!) but now that she has established her little spot in your body, she will start demanding more attention from your blood supply. From now until the late weeks of your pregnancy, your blood supply will double and your red blood cells will increase about 20% to allow for the higher oxygen demands. Bonus: just one ounce of dark chocolate contains 25% of your recommended daily dose of copper! Who knew good prenatal nutrition could be so delicious?!
Find copper in:
Nuts, leafy greens, chocolate (woohoo!)
Recipe: Overnight Oats with Coconut and Chocolate
Ingredients:
1/2 cup quick oats
1/2 cup vanilla flavored coconut milk
1 tablespoon shredded coconut
1 tablespoon honey
1/2 teaspoon vanilla bean seeds
1 ounce grated dark chocolate
Preparation:
Add all ingredients to a 1/2 pint canning jar. Shake the jar, and place in fridge overnight. In the morning you will have a healthy breakfast waiting for you!

---
Week 27 – Choline for a brain boost


What's going on in there?
Baby's brain development is hitting the accelerator.
What do I need and why?
CHOLINE gets chopped up into smaller molecules that are critical for building brain cells.As brain development ramps up in the second and third trimester, mom's choline intake should ramp up too.  Every bit of choline that goes into baby-brain building must come from your diet. Research suggests that increasing choline intake during pregnancy may have long-lasting effects on baby's learning and memory[2]. More choline, please!
Find choline in:
Eggs, red meat, and fish.
Recipe: Light Egg Salad Sandwich
Ingredients
2  center-cut nitrate-free bacon slices
1/3 cup thinly sliced green onions
2 tablespoons canola mayonnaise
1 tablespoon plain fat-free yogurt
1/4 teaspoon freshly ground black pepper
1/8 teaspoon kosher salt
6  hard-cooked large eggs, chopped
2 cups arugula
8  whole-grain bread slices
Preparation:
Cook bacon in a medium saucepan over medium-high heat 3 minutes or until crisp. Remove bacon from pan; crumble. Place bacon in a large bowl. Stir in onions and next 5 ingredients (through salt). Gently stir in eggs.
Arrange 1/2 cup arugula on each of 4 bread slices. Top each serving with 1/3 cup egg mixture and 1 bread slice.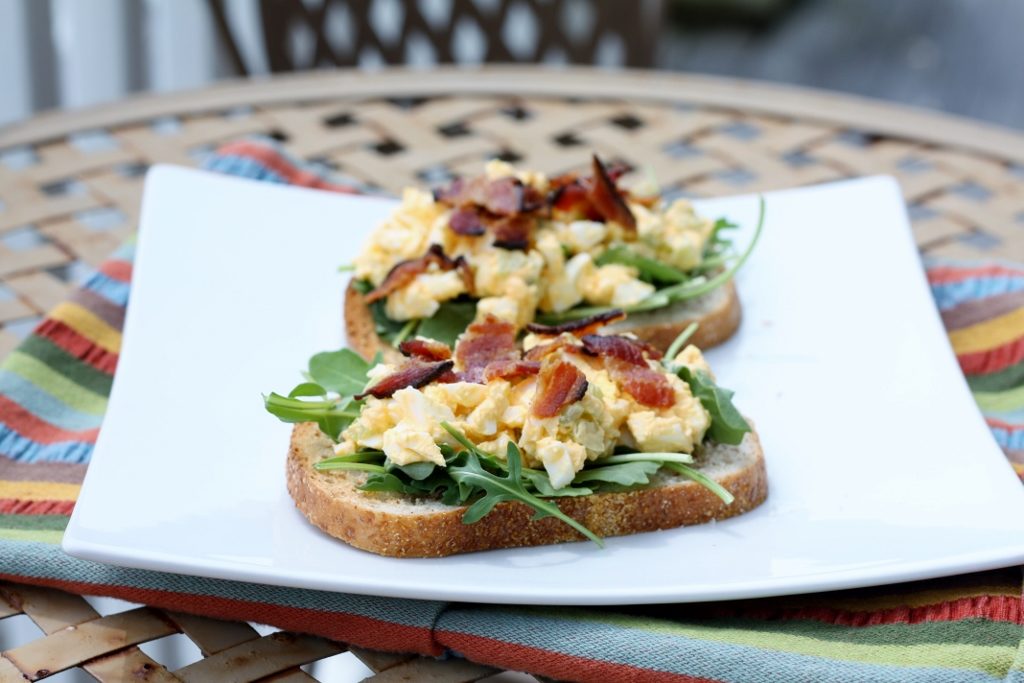 (special recipe thanks to First Look, Then Cook!)
---
Get Baby Building Blocks delivered directly to your inbox!
Interested? Sign up below!
REFERENCES:
[1] http://www.nlm.nih.gov/medlineplus/ency/article/002419.htm
[2] http://www.ncbi.nlm.nih.gov/pubmed/4075604
[3] http://www.sciencedirect.com/science/article/pii/S0002822310005298