Accurately timing contractions is the key to understanding what your contractions mean – are they just Braxton Hicks? A false alarm? LABOR??!!!
If you're wondering how to time contractions, here are the basics: note the start of one contraction, note the end of that contraction, and then note the start of the next contraction. This will help you compute the duration (how long each contraction lasts) and frequency (how far apart are they).
Simple enough, right?
If you answered "No", don't worry! We're going to walk you through it a bit more to help you accurately time your contractions: 


How to time contractions:
Back to those three important time points: the start of a contraction, the end of a contraction, and the start of the next contraction. Noting these three time points for at least an hour will help you answer the key questions you'll need to know about changes in your contraction pattern that might indicate labor vs. non-labor: "How long is each contraction?", "How far apart are they?", and "How long have you been feeling them?"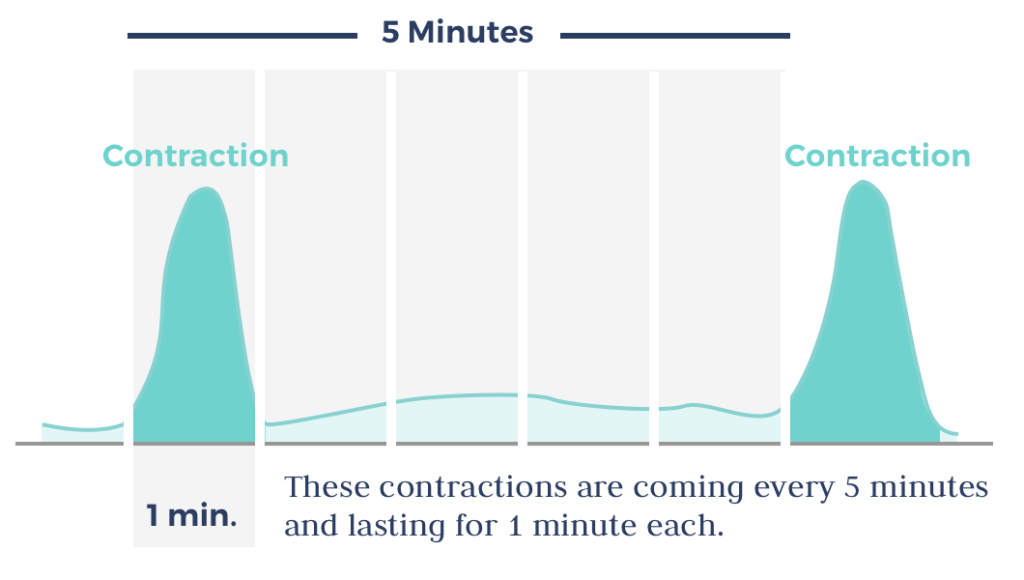 ---
Terms for timing contractions:
Duration of a contraction – "How long is each contraction?"
Duration is measured from the beginning of one contraction to the end of that contraction.
Time the duration of a contraction by starting your timer when a contraction starts and stopping the timer when the contraction ends. Somewhere in the middle, you'll feel a peak in intensity but wait until all sensation has stopped before you stop the timer.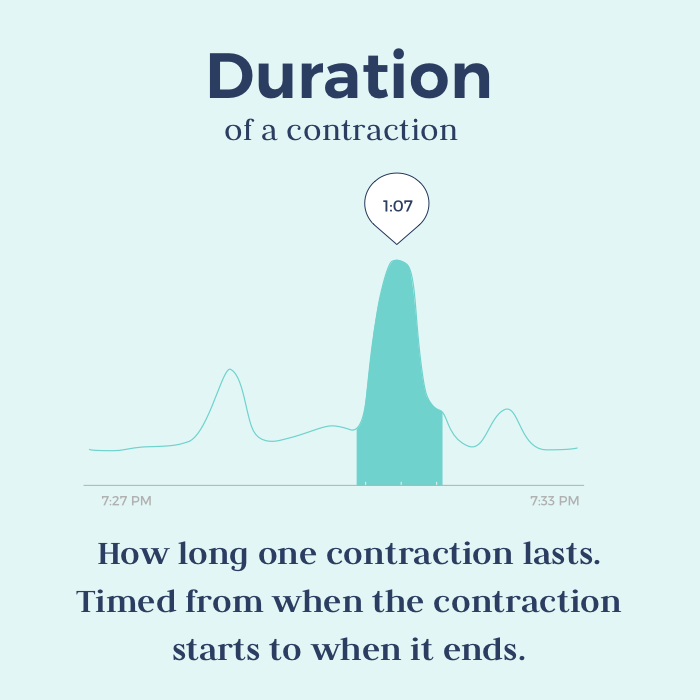 Frequency of contractions – "How far apart are they?"
Frequency is based on the time between the start of one contraction and the start of the next contraction.
Time the frequency of contractions by noting the time when one contraction starts and the time when the next contraction starts. Some apps will do this math for you when you are working to time the duration. A contraction tracker, like Bloomlife  will automatically record both the duration and frequency for you.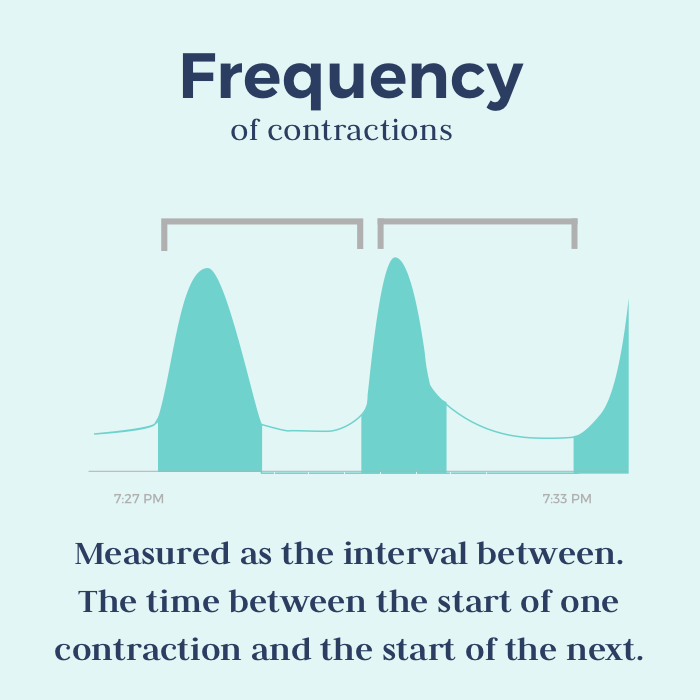 The 5-1-1 Rule – all three questions
The 5-1-1 rule also takes into account the "How long have you been feeling them?" since contraction patterns should be recorded for at least one hour. This rule of thumb often comes from your care team and/or birth educator as a way to know when early labor becomes active labor. It may take many forms, you may hear 4-1-1 or 3-1-1, so talk with your care team about their specific recommendations.
Timing for 5-1-1 stats is based on frequency of contractions (specifically the actual interval between) becoming 5 minutes apart, on average, duration of your contractions becoming 1 minute long, on average, and timing continuing over one hour.
Chances are if you are looking for an answer to your how to time contractions question, it's because you heard about the 5-1-1/4-1-1/3-1-1 rule.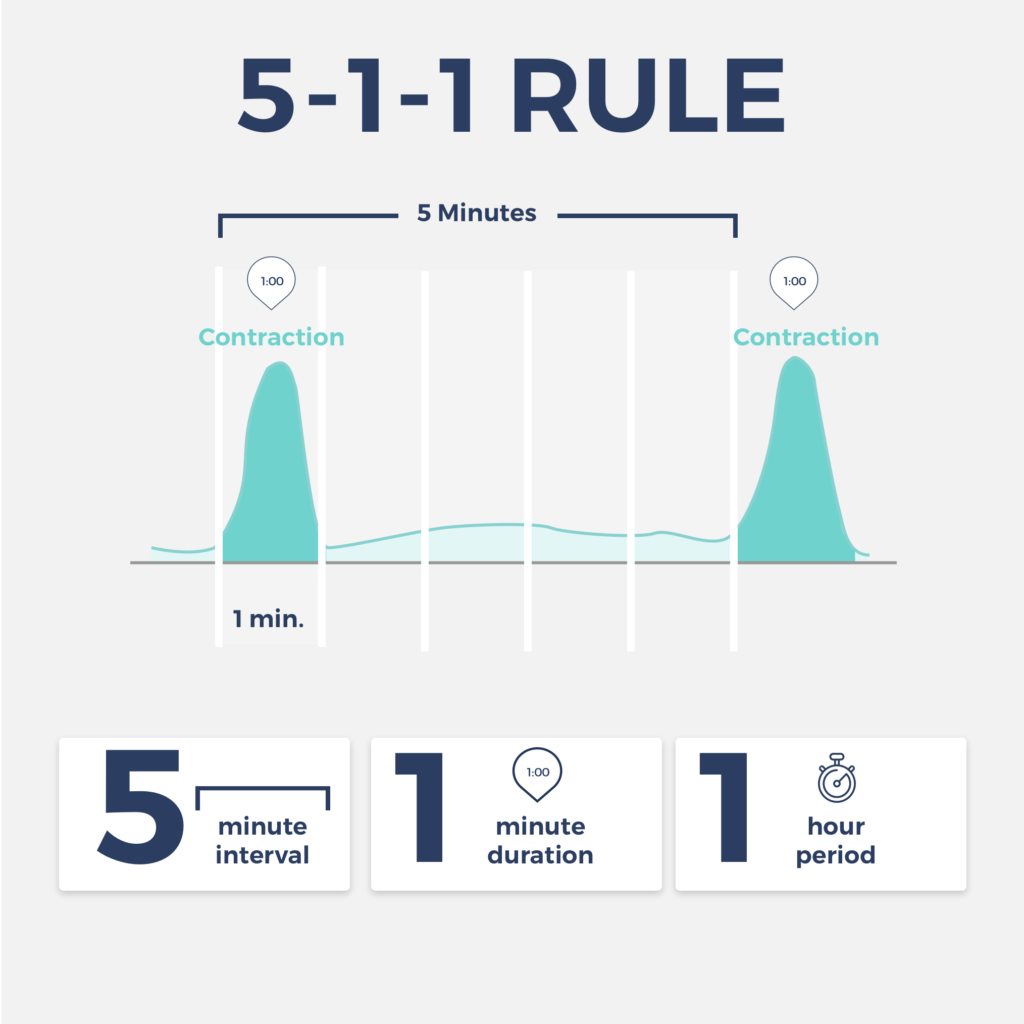 ---
What else should I look for when timing contractions?
We're glad you asked!
Stats are usually only important once contractions have become regular in their pattern. Regularity is important since stats take the average of each contraction duration and interval (frequency).
Irregular contraction patterns
An irregular pattern typically indicates Braxton Hicks contractions, those sporadic warm-up or "false labor" contractions.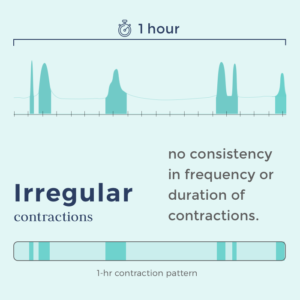 Regular contraction patterns
A regular pattern can indicate early labor.  Contractions during this stage start to sync up and get the body ready to push out that baby.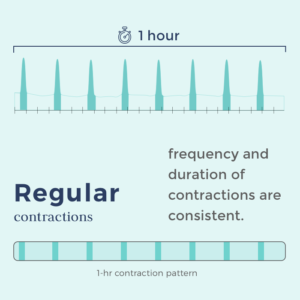 Progressing contraction pattern
Progression means contractions get closer together. It may signify cervical change (which only your doctor can assess!) as your body really kicks into labor mode.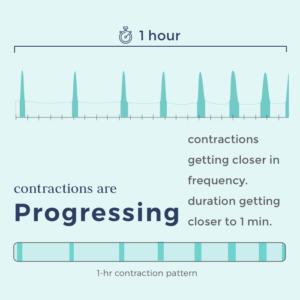 Other signs of labor
In addition to contractions, there are other signs of labor to keep an eye out for. Learn about those signs with our Lamaze Tip Sheet – Recognizing the Signs of Labor.
---
So, now how do I actually time contractions?
When it comes to how to time contractions, the easiest tools are contraction timers. There are 50+ apps in the app store that act similar to the stopwatch function on your phone but may also track and display the contraction pattern and timing and don't require you to do the math.
A better, and more accurate way is to use a smart contraction tracker, like Bloomlife. Bloomlife automatically tracks, times and counts contractions by monitoring your uterine muscle activity as it contracts. It does all the contraction timing for you – monitoring the start of each contraction, the end of each contraction, displaying the contraction pattern, and calculating the stats you'll need for your 5-1-1 rule.  No stopwatch required!
---
REFERENCES:
http://www.babies.sutterhealth.org/laboranddelivery/labor/ld_contractns.html
https://www.acog.org/Patients/FAQs/How-to-Tell-When-Labor-Begins