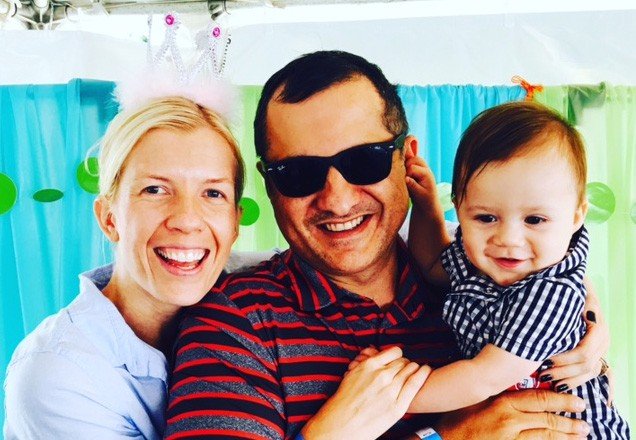 First time mom
Sweet baby boy
Ally's story
"Bloomlife helped make the final trimester journey that much smoother!"
1st time mom
The evening before baby Arjun was born was when I realized that Bloomlife was really there for me.
We were out to dinner at one of our favorite Italian restaurants, and I started to feel what I believed to be contractions. It felt like they were getting closer and closer, and Bloomlife was telling me the same.
I could see, very easily, the contractions graphed, depicting exactly what I was feeling…contractions that were getting closer together.
With Bloomlife, I continued to monitor and track the changes, but as we finished dinner and drove home, the contractions began to slow! Because I could easily track and see everything, we avoided going to the hospital too early and wasting 5 hours in triage!
What a relief it was to have Bloomlife!
---
Sharing Bloomlife
Sanjay, my husband, was the one that found Bloomlife for me. This was my first pregnancy, my first time experiencing labor and he was searching for something to help me.
We were blessed that Bloomlife exists now.
When we were in the hospital during labor, all of the nurses and doctors were amazed that something like this wasn't invented much earlier.
"This should have been around years ago! We are so excited to see a product like this!"
The nurses and staff were impressed with how lightweight and easy to wear the Bloomlife is. I was walking around, pacing the halls to induce labor, and the Bloomlife stayed with me the entire time. What a relief!
---
My favorite thing about Bloomlife
Really, I enjoyed everything about being pregnant–and Bloomlife helped make the final trimester journey that much smoother. I felt at peace knowing that my contractions were being tracked and I could look and see it anytime that I wanted.
I would use Bloomlife again in a heartbeat! Bloomlife provided me security and peace of mind and will truly help those first time moms, and moms in general, as they prepare for labor!
---
-Ally, first time mom to baby Arjun