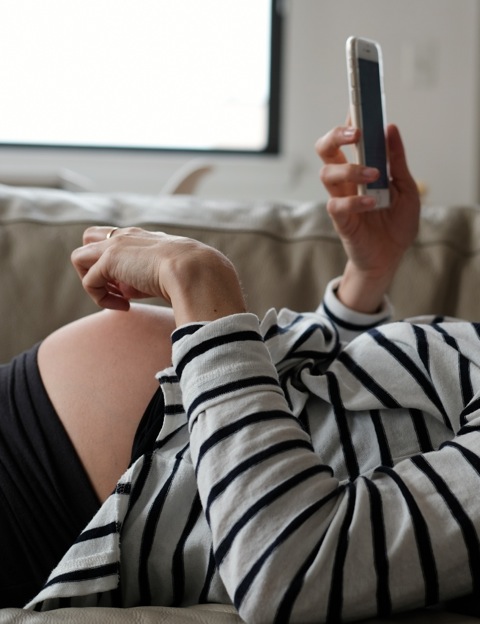 First time mom
City living
Emilie's story
"Bloomlife helped us feel confident"
1st time mom
As a first time mama-to-be, I really had no idea what to expect.
I didn't have any Braxton Hicks prior to going into labor and initially, my contractions felt like menstrual cramps, so it was comforting to see Bloomlife picking up my contractions and know they were really happening.
It's crazy that there are a gazillion devices out there to help you track your fitness or vital stats, but until now nothing existed to help women track and understand their bodies at this super important moment in their lives.
I can't imagine anyone not wanting to have a Bloomlife buddy during their last trimester!
---
Feeling confident in labor
We planned on giving birth in the birthing center at Mount Sinai West hospital which required that I be further along than the admission requirements to regular Labor and Delivery. That meant laboring at home for longer which was a bit nerve-wracking since it was my first time – What if we showed up too early and had to make the 45-minute drive back home? What if we waited too long and things got a little hairy/scary?
---
Bloomlife helped us feel confident laboring at home until it was really time to go.

---
As I watched my contractions through the night, periodically calling our midwife to report my progress, Bloomlife really felt like my buddy. I just remember the glow of the Bloomlife app in the night giving me such reassurance!
---
Impressing our midwife
When I told our midwife about Bloomlife, she was amazed that something like it now exists. She's helped deliver over 3,000 babies and has seen it all.
I  lead product innovation for a women's health company focused on fertility so I also had to share Bloomlife with my colleagues. My team is passionate about new products that help women understand their reproductive health and they loved everything about Bloomlife!
---
Seeing the contraction forest through the trees
When tracking contractions yourself, your perspective is really only on the last few contractions. You can't see the contraction forest through the trees so to speak! Bloomlife is great because it visualizes your contractions over time and illustrates patterns that you might not otherwise notice.
---
Bloomlife provided me with a tool to understand what was going on with my body and with the confidence to trust what it was telling me.
---
So many things related to pregnancy are involved and complicated, but not Bloomlife. I love how easy to use and easy to understand Bloomlife was! The set up was easy, the sensor is very discrete, and visualization of contractions on the app is intuitive and super helpful.
When labor starts, you want something that is going to help you focus and add to your brainpower, not take it away.
---
-Emilie, mom to baby Otis