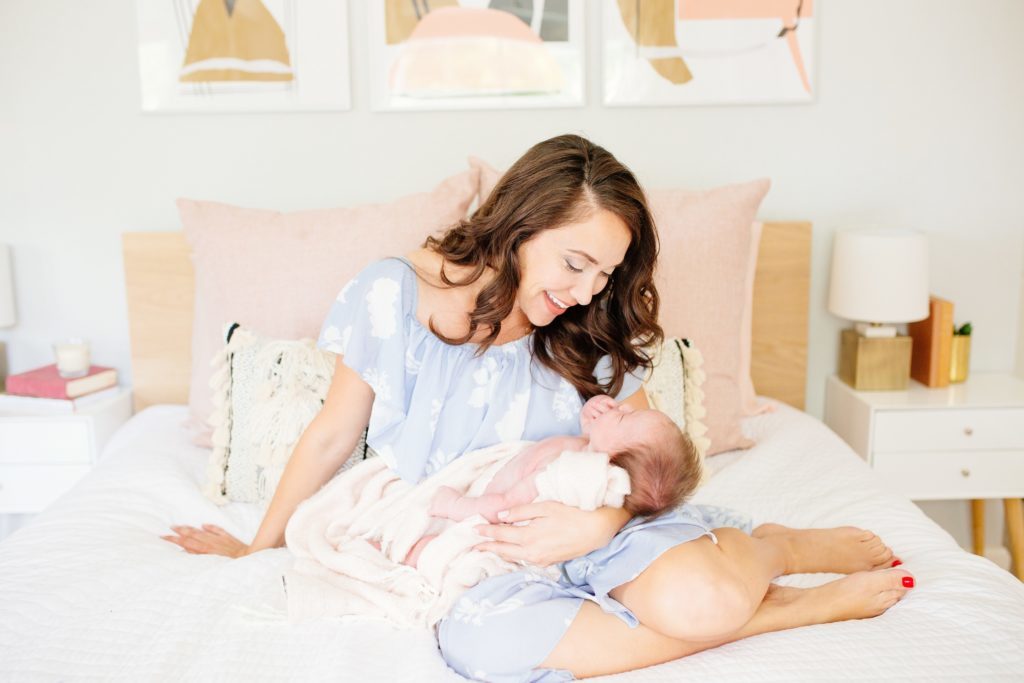 5th time mom
posterior position
Jenny's Story
"Bloomlife provided me peace and reduced my anxiety towards the end of my pregnancy"
5th time mom
One afternoon, I was having particularly strong contractions. I began using my Bloomlife because I wanted to see exactly what the timing and intensity were like for each one. I was busy managing my other four kids, and I didn't want my doula or childcare to show up too early. There is a lot of anxiety surrounding a hospital birth when you have to coordinate childcare for your other children.
One of the several reasons why I decided to use Bloomlife was to give myself more information and peace leading up to labor and delivery.
---
Bloomlife Gave Me Peace of Mind
I am so thankful I began tracking with my Bloomlife that day!
I realized after a few hours that even though I felt ready to go to the hospital, my contractions were actually slowing down as the evening came. I didn't need to call my doula or child care after all. My husband was also able to finish out the workday without coming home too early. That was something that happened many times with our fourth child, who was also in a posterior position.
Bloomlife provided me peace and reduced my anxiety towards the end of my pregnancy…
…because one of the things I was most anxious about was false labor, and upending the lives of others who were going to care for my kids when I was at the hospital. I could feel my contractions and after my Bloomlife calibrated, I was happy to see that sometimes what I was feeling was multiple contractions with multiple peaks, something I had experienced in a previous labor. 
---
How Bloomlife Helped Me
I am a person who loves to know what is going on with my pregnancy and my body. I am always asking my midwives and doctors as many questions as I can.
There were many things that I enjoyed about using Bloomlife, but one thing that I particularly enjoyed was having the information at my fingertips, whenever I wanted it.
It was a comfort to be able to track my contractions whenever and however I wanted. The entire day that I was in early labor, I wore my Bloomlife. We went to guitar lessons and to a local farm, among other errands. I kept my Bloomlife on and was able to see a steady progression. When I finally realized I was in labor, I began resting at home. I knew when to call childcare and my doula because of my Bloomlife data. I feared going to the hospital too early after my last pregnancy, where I was sent home for the first time!
This time with Bloomlife, I was able to stay at home as long as I had planned, and I wore the Bloomlife the entire hospital drive.
---
Bloomlife Impressed My Care Team
I shared about Bloomlife with many of my friends, my doula, and my midwife practice. They all thought it was a wonderful option, especially for a mom like me with multiple other children at home. I couldn't believe some of them had never heard of Bloomlife before, and my doula friends especially were interested in how it could help their clients know when to call them as labor begins!
The labor and delivery triage couldn't believe all the information I had available because of the Bloomlife, and because I was so far along, they were able to get the midwife to the hospital immediately for delivery.
---
How Bloomlife Can Help You
I think that whether someone is expecting their first, or their fifth like me, they will find that Bloomlife makes the process of preparing for labor, and being in labor, easier and less stressful.
The information and peace of mind that Bloomlife provides for the very minor cost is beyond worth it!
Previously, I had always used an app to manage and calculate contractions, which was difficult and frustrating. Knowing that Bloomlife was tracking everything for me, without me having to start and stop an app, was so much easier. I think other moms would benefit from Bloomlife if they have any concerns about their pregnancy, or just like the benefit that the contraction information provides. 
---
-Jenny, 5th time mom